SOCIALENGINE CHAT PLUGIN
Channelize.io integrates with your SocialEngine Site
Nowadays, a popular trend which can change the future of any brand is messaging. Having a messaging feature is a prerequisite for SocialEngine powered Community to continue writing the success stories, as it is changing the way people interact with each other hence increasing the user engagement tremendously.
Channelize.io seamlessly integrates with SocialEngine Web + Mobile Apps to provide such rich & engaging Messaging, Video & Voice Calling experiences.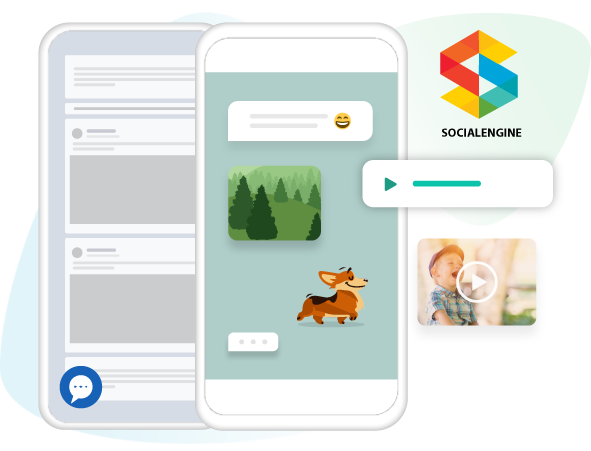 Loved by SocialEngine Communities

I like the user-friendly interface, real-time conversations I can have with members and ability to move away from email as the core communication method.
Sian Harrington
Co-Founder
The People Space Leaders Community

Channelize.io is an Overall Package with Voice/ Video Calling and other attractive features which are best for any community. I sure recommend it to everybody.
Vannarith Sean
Director
LikeCambodia Community

Channelize.io has made it possible for my social network members to video chat and call each other. This has increased engagement and retention on my website and app.
Damien Blackwell
CEO
UniqueThis Community
Adding Real Value to your SE community
Engagement

Channelize is proven to increase User Engagement, which matters most for communities' growth, by 10X !

Growth

Best messaging experience with Push Notifications keep users hooked and increase communities' growth by 27% !

Churn

Real-time messaging adds great value to communities, which reduces Churn rate by 18% !
Deep integration with SocialEngine
Easy Setup & Data Migration

Existing conversations on your community are retained.

Open Windows for Monetization

Role-Based Access Control to Different Member Levels to Hide/Unhide Channelize.io, providing monetization opportunities.

Website

Easily accessible, attractive chat window that allows multiple chats simultaneously.

Mobile Apps

Perfectly located messaging tabs in SE Mobile Apps.

Key aspects of Integration

Privacy Controls (member blocking), Friendships, User Online / Offline Status, Member Profile & Photo, Matching Theme (branding).

Single Sign-on

Users don't have to sign-in again to use Channelize, just single login to their community will give access to Channelize inside.
Making Real-time Messaging easier than ever
Feature Rich

Similar to Facebook/WhatsApp Messenger in itself. It's amazing features are worth exploring. We're also quick at rolling out new features like Voice & Video Calling, Stickers + GIFs, Location Sharing, etc.

No Separate Mobile Apps

Channelize Mobile SDK is easy to integrate with your existing Apps. We also have pre-built deeper integration with SocialEngineAddOns / Other Mobile Apps powered by SocialEngine.

Mobile Friendly, Intuitive UI

Channelize Web Interface is Mobile Friendly. Check our demos to see how Channelize is providing a WOW messaging experience.
Integrating Channelize is as easy as 1-2-3
1
Purchase a plan that's right for you.
2
Get Channelize.io Integration Services
3
Enjoy messaging in Action on your Website & Mobile Apps
Request a Demo
A personalised demo showcasing Channelize.io in action! Allow us to help you with queries on pricing, features, custom requirements, etc.
Schedule Demo
Pricing